Belgium
The UBMS / UEMS believes in the full accountability and transparency of Rabbinic leadership. The Torah teaches mutual submission and shared responsibility in networked leadership communities. This page is published to ensure public accountability and the public knowledge / awareness of leaders' current status within the movement and Unions. Please address any questions to the relevant executives.
Congregations and leaders listed below represent those whose vision may be slightly different to that of the UBMS / UEMS but we work with them to accomplish shared values and goals.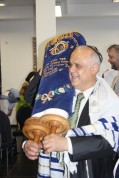 Lorenzo Greco
is the congregational leader of Beth Yeshoua Messianic Congregation in La Louviere, Belgium my sources. As a result of his growing interest in Israel, he was invited to join with Rabbi Paul Ghennassia at Beth Yeshoua when it was located in Brussels. Upon his retirement, Paul ordained him as leader of the congregation, which has strong links of friendship with the Jewish community in Brussels.
Visit Website